MANUFACTURE OF PACKAGING FOR CONFECTIONERY
An excerpt from the work of Richmond Walter about the confectionery industry says: "you need to pack candy so that they are pleasing to the eye after opening." But in fact, confectionery packaging is the first thing that should have a pleasant effect on the buyer, because its design and quality should catch the eye, among other things, on the store shelf. If it is attractive and of good quality, it will in itself serve as an advertisement for the product.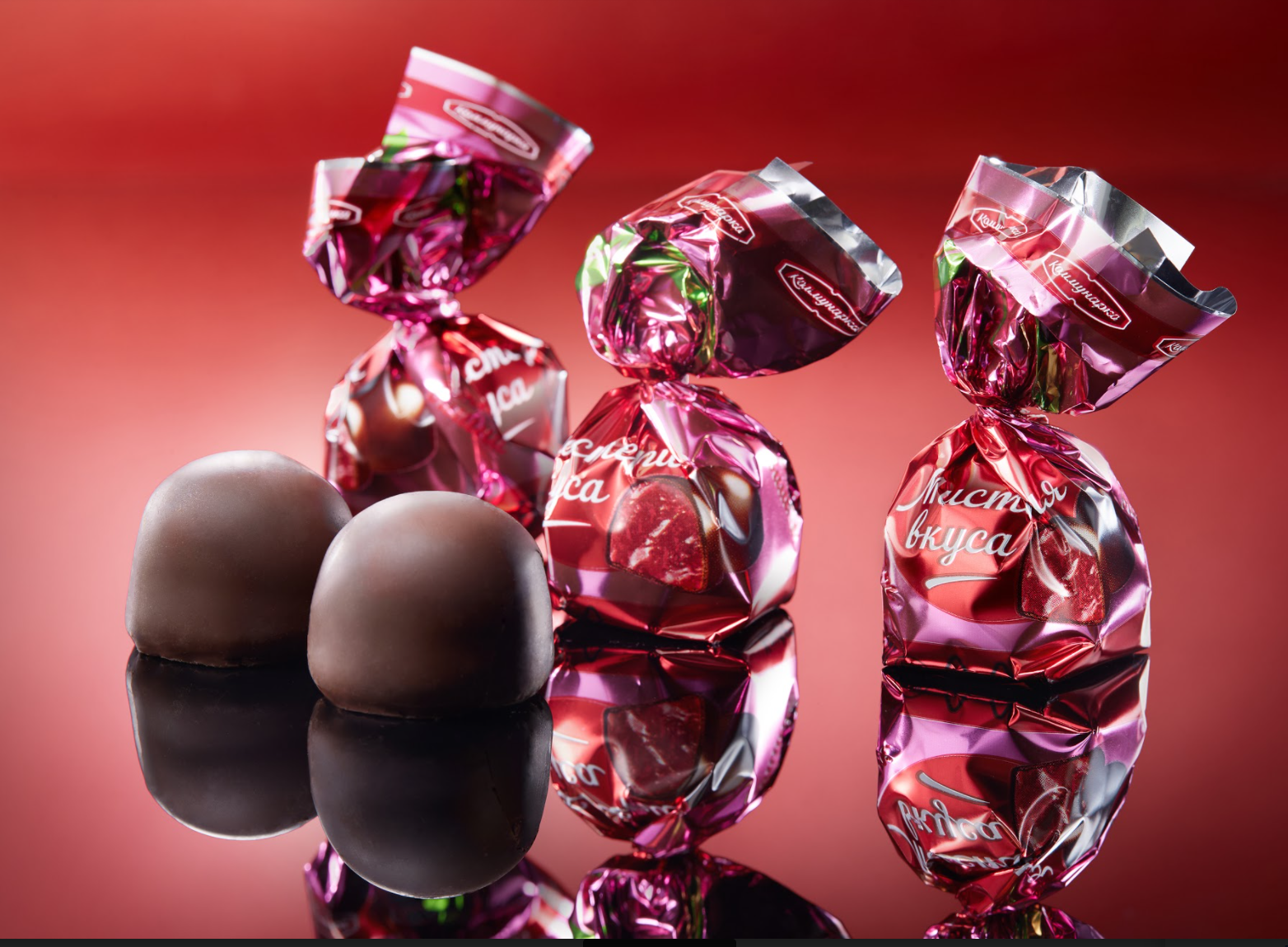 If you want to buy premium confectionery packaging for your production, then our FlexoForce company is at your service. We have been in the flexible roll-to-roll packaging industry for over 20 years and know how to create custom-made plastic packaging for confectionery products. Our company will make sure not only that it is always at the right time and in the right quantity, but also about the respectability of the product itself.
WE PRODUCE POLYMER CONFECTIONERY PACKAGING FOR:
butterscotch, lollipops, pastilles, dragees and marshmallows,
nuts, fruits in sweet glaze,
caramels and sweets (chocolate, marmalade, fondant, licorice, soufflé),
waffles, cookies and other confectionery products.
Details of our production of plastic packaging for confectionery products FlexoForce is a time-tested manufacturer of confectionery packaging with numerous customers. For several years we have been cooperating with leading confectionery brands from different CIS countries. In particular, among our partners: Krasny Oktyabr, Russian Chocolate, YUZHURALKONDITER, Samoilovskie Sweets, RotFront and many others. Our services are chosen for the protective functions of the packaging against condensation, steam and sunlight, as well as for designs with a "window" to showcase the product for high transparency.
We use the following types of materials in our work:
BOPP transparent (matte) / BOPP;
Metallized BOPP / BOPP;
BOPP white / BOPP;
BOPP pearl / BOPP;
BOPP transparent (matte) / SPP;
BOPP transparent (matte) / PE;
PET / BOPP metallized. The most suitable laminate option is chosen by our specialists based on the characteristics of the products, storage conditions and technical nuances of equipment for packaging sweets in production.
Twist films - economical, practical confectionery packaging
They are ideal for the confectionery industry. The "twist" action is based on the fact that the base layer matter is created in one direction and has a stable permanent deformation. Simply put, it is able to maintain a certain curled shape when packing candy products. The production of twist films is a very laborious technological process that requires innovative equipment and material with stable sliding, high rigidity and rollability. We believe that the future of polymer packaging for confectionery products lies with twist films, because they are not only more attractive in appearance, but also increase the shelf life of sweets and are easy to process further.
Where to buy bulk confectionery packaging?
The success of your product largely depends on the quality of its packaging, the FlexoForce company will help bring the "presentation" of your product to a higher level, both in terms of functionality and presentability for consumers. We will help you not only to package your product, but to promote it on the market. If you have any questions, you can call +375 17 2153300, +375 29 1353300 or visit our office in Minsk on st. Nemiga, 40, fl. 4, office 404. We are always glad to new clients and meet them with a cup of hot coffee or tea. FlexoForce is your loyal and reliable partner in the packaging process!